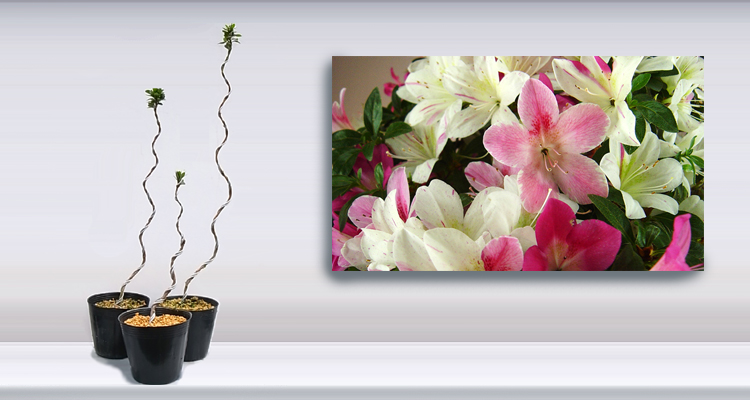 Satsuki Azalea Twisted Seedlings for Bonsai from Japan
No.
Images
Name
Age
Height(cm)
Price (USD)
To EUR
1
Iwaiboshi
Iwaiboshi
2
30-40
35.38
2
Oryu
Oryu
2
20-30
120.25
3
Kozan
Kozan
2
40-50
22.66
4
Kobai
Kobai
2
40-50
22.66

5

Kokuryu
Kokuryu
2
40-50
28.85
6
Kokkonotsuki
Kokko-no-Tsuki
2

40-50

35.83
7
Korin
Korin
2
40-50
22.66
8
Sakura
Sakura
2
20-30
28.85
9
Saran
Saran
2
20-30
28.85
10
Jukokan
Jukokan
2
70-80
21.50
11
Suzunohomare
Suzunohomare
3
80-90
43.37
12
Senbazuru
Senbazuru
2
40-50
35.83
13
Hanabin
Hanabin
2
40-50
35.83
14
Hiodoshi
Hiodoshi
2
70-80
28.85
15
Hinomaru
Hinomaru
2
20-30

Out of Stock

16
Benikage
Benikage
2
50-60
35.83
17
Hoshinokagayaki
Hoshi-no-Kagayaki
2
40-50
17.91
18
Yatanokagami
Yatanokagami
2
20-30
17.91
19
Yukinko
Yukinko
2
20-30
28.85
*
To outside of Japan
It costs 348 USD for the export inspection in Japan, regardless of the number of Seedlings and packages.
Shipments made outside of Japan may be subject to import duties and taxes, which are levied once your package reaches the country of destination and are the responsibility of the recipient.
About Shipping Cost
We provide you Satsuki Azalea Seedlings by EMS. You can check shipping costs by weight from Japan to your contry in this EMS site.
*For example : 10 pots (700g x 10) + Box weight (2.0kg) = 9.0kg
Contact and Estimasion Request
We look forward to hearing from you. Contact Form. We are "Shibue Satsuki Azalea Bonsai Garden" in Japan.